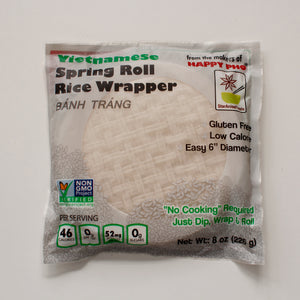 World's ONLY Non GMO Verified Wrappers
Gluten Free
Non GMO Verified
Pantry Shelf-Stable 
Stand up Case

12 oz / Container (16 Servings per Bag)
Pack of 12 Bags
Tasty and Easy to Use!
Due to allergies I must use gluten free products, and these spring roll wrappers do not disappoint! Easy to use, I can fill with my favorite ingredients and roll them up to enjoy. Took the first few times to learn how wet and how much time to let sit and then roll but after that its been simple. I make fresh spring rolls and have also fried rolls in a little oil. Great texture both ways. Awesome product!